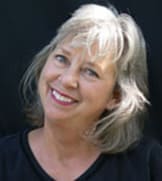 My love affair with the land began as a child exploring the fields and streams on my grandparents' farm in central Georgia. After finishing school in l976 my husband and I left the city and moved to Virginia's Shenandoah Valley just south of Staunton. We chose the Valley because of its penetrating beauty. How can you not be moved by the rolling pastures and blue mountains, the wild flowers and wild animals, the cows and sheep and horses that pepper our valley - just stunning.
Then the children came. My memories of their antics, their interests, their games and their friends, and all the pets and chickens and geese and guineas and horses now provide a seemingly endless source of ideas. I treasure them. They infuse and inform the art I create today.
I rely on my recollections and photographs of places and people and events and feelings and sift them through my own "creative mentality" to paint my landscapes and to tell my stories. My paintings are often very personal.
I am self taught. I began painting in the early 1980's while I was at home caring for our children. I painted with acrylics in the beginning and occasionally with pastels, but now use oils most of the time.
In addition to painting I create limited edition, personally enhanced giclee prints. All my images are printed, titled, numbered and signed by me. I use Epson Signature Exhibition Canvas and Epson Signature Cold Press Bright Paper, both of which are museum quality, archival, giclee media. Each canvas print is double coated with a liquid laminate for enhanced UV, chemical and abrasion protection.
(540) 885-1891